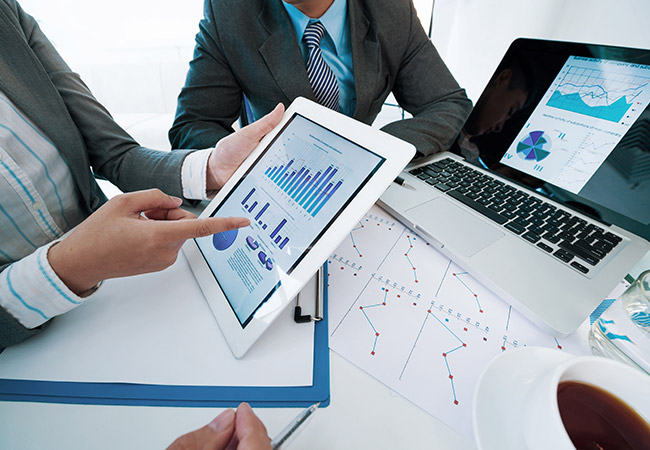 Technology keeps changing the face of business. As businesses continue to evolve and encounter challenges, they leverage business technology to solve problems and set themselves apart from the competition.
There are a number of challenges all businesses face – How to boost productivity; How to drive down operating costs; How to gather and analyze corporate data to achieve maximum benefit; How to remain sustainable. The fast-paced global environment demands that businesses do things better and faster than the competition, or else get left behind.
Businesses that depend on predominantly manual processes to gather data are the ones that need to make changes. A lot of manual processes are inefficient and prone to error and duplication. Errors are often costly to the business. In a lot of cases, manual processes are not repeatable because different people have different ways of doing things. In addition, if a person who performs a critical function leaves a company, he or she can become impossible to replace.
An integrated business technology solution eliminates many of the manual steps and resulting errors involved in data gathering and analysis. This type of solution can have features such as efficient report development and delivery, database design and development, data warehousing, and online analytical processing. With automated data gathering processes, business can eliminate many of the errors and duplication involved in manual processes. An integrated solution gives business decision makers a comprehensive view of important data, such as sales metrics, production capacity, internal operations, market trends and key performance indicators.
By leveraging technology, decision makers are able to monitor their business efficiently, formulate sound strategies and make informed decisions to improve their bottom line.
Read More
Read More
Read More
Read More
Read More
Read More
Read More
Read More
Read More
Read More
Read More
Read More
Read More
Read More
Read More
Read More
Read More
Read More
Read More
Read More
Read More
Read More
Read More
Read More
Read More
Read More
Read More
Read More
Read More
Read More
Read More
Read More
Read More
Read More
Read More
Read More
Read More
Read More
Read More
Read More
Read More
Read More
Read More
Read More
Read More
Read More
Read More
Read More
Read More
Read More
Read More
Read More
Read More
Read More
Read More
Read More
Read More
Read More
Read More
Read More
Read More
Read More
Read More
Read More
Read More
Read More
Read More
Read More
Read More
Read More
Read More
Read More
Read More
Read More
Read More
Read More
Read More
Read More
Read More
Read More
Read More
Read More
Read More
Read More
Read More
Read More
Read More
Read More
Read More
Read More
Read More
Read More
Read More
Read More
Read More
Read More
Read More
Read More
Read More
Read More
Read More
Read More
Read More
Read More
Read More
Read More
Read More
Read More
Read More
Read More
Read More
Read More
Read More
Read More
Read More
Read More
Read More
Read More
Read More
Read More
Read More
Read More
Read More
Read More
Read More
Read More
Read More
Read More
Read More
Read More
Read More
Read More
Read More
Read More
Read More
Read More
Read More
Read More
Read More
Read More
Read More
Read More
Read More
Read More
Read More
Read More
Read More
Read More
Read More
Read More
Read More
Read More
Read More
Read More
Read More
Read More
Read More
Read More
Read More
Read More
Read More
Read More
Read More
Read More
Read More
Read More
Read More
Read More
Read More
Read More
Read More
Read More
Read More
Read More
Read More
Read More
Read More
Read More
Read More
Read More
Read More
Read More
Read More
Read More
Read More
Read More
Read More
Read More
Read More
Read More
Read More
Read More
Read More
Read More
Read More
Read More
Read More
Read More
Read More
Read More
Read More
Read More
Read More
Read More
Read More
Read More
Read More
Read More
Read More
Read More
Read More
Read More
Read More
Read More
Read More
Read More
Read More
Read More
Read More
Read More
Read More
Read More
Read More
Read More
Read More
Read More
Read More
Read More
Read More
Read More
Read More
Read More
Read More
Read More
Read More
Read More
Read More
Read More
Read More
Read More
Read More
Read More
Read More
Read More
Read More
Read More
Read More
Read More
Read More
Read More
Read More
Read More
Read More
Read More
Read More
Read More
Read More
Read More
Read More
Read More
Read More
Read More
Read More
Read More
Read More
Read More
Read More
Read More
Read More
Read More
Read More
Read More
Read More
Read More
Read More
Read More
Read More
Read More
Read More
Read More
Read More
Read More
Read More
Read More
Read More
Read More
Read More
Read More
Read More
Read More
Read More
Read More
Read More
Read More
Read More
Read More
Read More
Read More
Read More
Read More
Read More
Read More
Read More
Read More
Read More
Read More
Read More
Read More
Read More
Read More
Read More
Read More
Read More
Read More
Read More
Read More
Read More
Read More
Read More
Read More
Read More
Read More
Read More
Read More
Read More
Read More
Read More
Read More
Read More
Read More
Read More
Read More
Read More
Read More
Read More
Read More
Read More
Read More
Read More
Read More
Read More
Read More
Read More
Read More
Read More
Read More
Read More
Read More
Read More
Read More
Read More
Read More
Read More
Read More
Read More
Read More
Read More
Read More
Read More
Read More
Read More
Read More
Read More
Read More
Read More
Read More
Read More
Read More
Read More
Read More
Read More
Read More
Read More
Read More
Read More
Read More
Read More
Read More
Read More
Read More
Read More
Read More
Read More
Read More
Read More
Read More
Read More
Read More
Read More
Read More
Read More
Read More
Read More
Read More
Read More
Read More
Read More
Read More
Read More
Read More
Read More
Read More
Read More
Read More
Read More
Read More
Read More
Read More
Read More
Read More
Read More
Read More
Read More
Read More
Read More
Read More
Read More
Read More
Read More
Read More
Read More
Read More
Read More
Read More
Read More
Read More
Read More
Read More
Read More
Read More
Read More
Read More
Read More
Read More
Read More
Read More
Read More
Read More
Read More
Read More
Read More
Read More
Read More
Read More
Read More
Read More
Read More
Read More
Read More
Read More
Read More
Read More
Read More
Read More
Read More
Read More
Read More
Read More
Read More
Read More
Read More
Read More
Read More
Read More
Read More
Read More
Read More
Read More
Read More
Read More
Read More
Read More
Read More
Read More
Read More
Read More
Read More
Read More
Read More
Read More
Read More
Read More
Read More
Read More
Read More
Read More
Read More
Read More
Read More
Read More
Read More
Read More
Read More
Read More
Read More
Read More
Read More
Read More
Read More
Read More
Read More
Read More
Read More
Read More
Read More
Read More
Read More
Read More
Read More
Read More
Read More
Read More
Read More
Read More
Read More
Read More
Read More
Read More
Read More
Read More
Read More
Read More
Read More
Read More
Read More
Read More
Read More
Read More
Read More
Read More
Read More
Read More
Read More
Read More
Read More
Read More
Read More
Read More
Read More
Read More
Read More
Read More
Read More
Read More
Read More
Read More
Read More
Read More
Read More
Read More
Read More
Read More
Read More
Read More
Read More
Read More
Read More
Read More
Read More
Read More
Read More
Read More
Read More
Read More
Read More
Read More
Read More
Read More
Read More
Read More
Read More
Read More
Read More
Read More
Read More
Read More
Read More
Read More
Read More
Read More
Read More
Read More
Read More
Read More
Read More
Read More
Read More
Read More
Read More
Read More
Read More
Read More
Read More
Read More
Read More
Read More
Read More
Read More
Read More
Read More
Read More
Read More
Read More
Read More
Read More
Read More
Read More
Read More
Read More
Read More
Read More
Read More
Read More
Read More
Read More
Read More
Read More
Read More
Read More
Read More
Read More
Read More
Read More
Read More
Read More
Read More
Read More
Read More
Read More
Read More
Read More
Read More
Read More
Read More
Read More
Read More
Read More
Read More
Read More
Read More
Read More
Read More
Read More
Read More
Read More
Read More
Read More
Read More
Read More
Read More
Read More
Read More
Read More
Read More
Read More
Read More
Read More
Read More
Read More
Read More
Read More
Read More
Read More
Read More
Read More
Read More
Read More
Read More
Read More
Read More
Read More
Read More
Read More
Read More
Read More
Read More